Jackpot!
1997 District Champion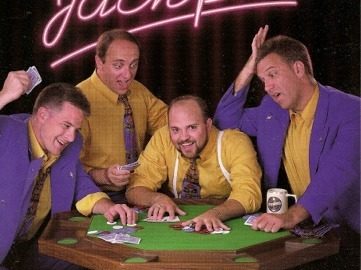 Jackpot! grew from the ashes of an early 1990's quartet known as Scallawags, which also included Tim, Grant and Mike, with Mike's brother Doug singing the Bass part. Scallawags had been retired for a couple of years when the interest to put together a top quartet was rekindled by watching our friends and riser-mates Checkmate win the LOL district in 1996.

Thus, Grant, Tim and Mike auditioned a number of basses, finding the perfect blend in Kirk Hyder, who had a stellar resume of almost winning the district at bass for a number of times in the past.

In December of 1996 the quartet sang its first notes and found a great natural lock and ring. In April of that year, the quartet placed first in the Division One Contest, during which they had to pause before their tender second-song ballad to allow an ambulance to pass outside the auditorium - sirens blaring.

At the1997 District Contest in Oshkosh, Jackpot! competed with a song they had picked three weeks earlier – Pal of My Cradle Days. Naturally, it was their highest scoring song. The quartet went on to win the district in its first and only attempt.

Jackpot! represented the LOL district at the international competitions in Atlanta and Kansas City, where they were honored to have performed well enough to reach the Top 20, semi-final round.

All of the members are active in the Greendale chapter.
1997 District Championship